BREAKING: Building Code exemption likely for Telstra EA
We recently reported plans to hold a vote to vary your EA due to changes to the Government's Building Code that would prevent Telstra from performing work on certain Government-funded projects like the NBN and mobile blackspot program. You can read it again by clicking here.
However, following considerable lobbying by the CEPU, an exemption to the Code is likely to prevent any requirement to vary the Telstra EA.
The Federal Government has performed a major backflip with its amendment to the Building Code 2016 which allows companies primarily performing work in the fields of "Essential Services" to apply to the Australian Building and Construction Commissioner for an exemption to the Code.
This amendment applies from today, 22 August 2017 and specifies: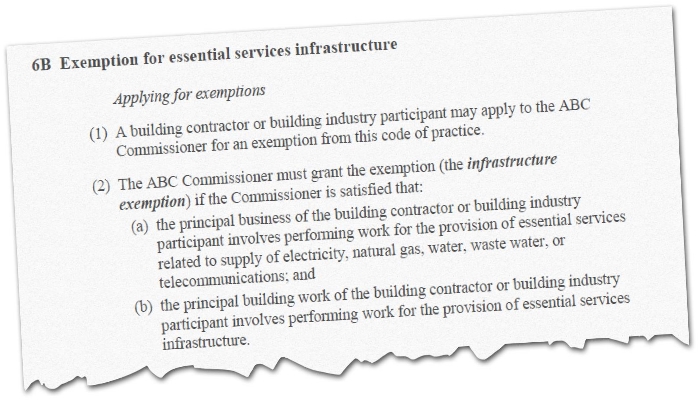 Upon initial examination of the amendment, our view is that Telstra is eligible to apply for the exemption, and that the exemption would indeed be granted - making their proposed EA variations unnecessary.
This also has a significant impact on other private-sector contractor agreements which would've had to be "Code compliant" - stripping the Union of significant automatic consultation and representation rights.
Telstra suspends planned EA variation vote
Urgent discussions between Telstra and CEPU Communications Division National President Shane Murphy took place yesterday shortly after the amendment's announcement.
"It was made very clear to Telstra that any exemption provided under this amendment would render the planned EA variation as an unnecessary watering down of the Union's consultation rights under the EA that could simply not be supported," said Shane.
"I am pleased to say that Telstra have today confirmed they will suspend the planned vote and make an urgent application to the Australian Building and Construction Commissioner for an exemption."
Government backdown a win for workers: CEPU National office
Communications Electrical Plumbing Union National Secretary Allen Hicks, who led the lobbying efforts on behalf of the Union's three divisions, welcomed what he described as a major backdown by the Turnbull Government.
"The backdown prevents thousands of CEPU members working in essential services from joining workers in the construction industry who are being treated as second class citizens."